In the world of real estate, it is the unknown that really scares people. What are your neighbors really like? What is that building they are putting up next door? Will there be any parking available? (Always a big question in the Cherry Creek area!) And most important: How will this affect my property values?
InTransit Properties has had a home listed For Sale or For Lease at 255 Garfield Street for a couple of months. It's a great property. As a new build in 2006, it features singularly the best finishes for the price (below replacement cost and price paid ten years ago). Unfortunately, it has one major downside. It is located right next to the old Newberry Nursery site.
For those of you who aren't familiar with the Newberry Nursery site, it has been the subject of many rumors in the Cherry Creek North community recently. Almost everyone seems to be "in the know" as to what is going to happen with the development. In just the last week, I have heard that it is going to be a 56-unit apartment building, a 4 story, 86-unit apartment building, a high-end townhome complex, and a 36-unit townhome complex – all with no parking!
Because at InTransit Properties we go above and beyond what other property management firms do for clients, it was definitely time to get to the bottom of what was actually going on with the old Newberry Nursery site, and try to quell some of those rumors flying around.
After visiting the building department, we emerged with plans and renderings in hand. Although there are still details to work out before final approval is granted, we have enough information to speak with some degree of confidence. The current plan that is before the building department is for a 26-unit building with 26 garages. The plan looks nice. It is a 2-story building on the South and North that steps up to a 3-story in the middle of the lot. The garages are in the back of the building on the alley.
We are also in touch with the project coordinator for the City and County of Denver, which will allow us to stay abreast of the progress and any changes that may occur as the property is developed. It is such a relief to be able to calm the fears of prospective nervous buyers or renters.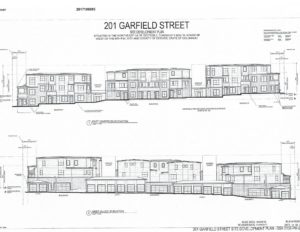 Time will tell whether the unknown, the imminent construction chaos, or the general softening/plateauing of both the leasing and sales market has caused our property to sit on the market for longer than normal.
If any of my readers know someone looking for an unbelievable deal in Cherry Creek, this is the townhome to tell people about. Spread the word about this beautiful featured property of the month!